SKILLET HEADS ALL-STAR WINTER JAM 2015 LINE-UP AS
HISTORY-MAKING TOUR CELEBRATES 20 YEARS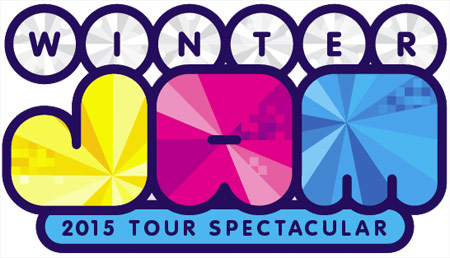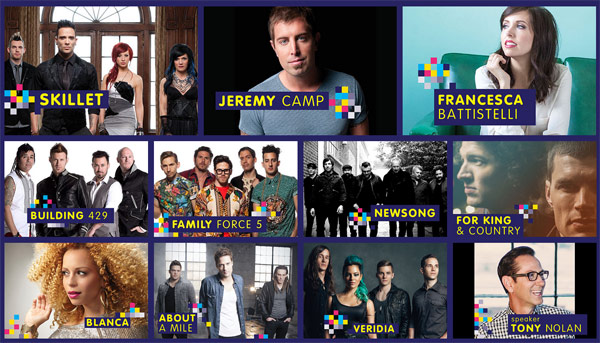 NEWS SOURCE: Turning Point PR
October 27, 2014
NASHVILLE, Tenn.-GRAMMY®-nominated platinum-selling rockers Skillet will return to the famed Winter Jam stage to headline the blockbuster tour's 20th year, it was announced tonight. Reigning as the world's #1 first quarter tour for four consecutive years, NewSong's Winter Jam Tour Spectacular revealed its 2015 line-up and cities during a special event earlier this evening at Nashville's Hard Rock Café.
In addition, the event was webcast by Blue Scout Media's StageHop.com to thousands attending "Winter Jam House Parties" around the world, where fans had a front row seat to the announcement and special performances by select Winter Jam 2015 artists.
Founded and hosted by GRAMMY®-nominated NewSong, the tour will also feature Jeremy Camp, Francesca Battistelli, Building 429, for King & Country, Family Force 5 and evangelist Tony Nolan, while the LifeWay Christian Stores Pre-Jam Party is slated to showcase Blanca, About A Mile and VERIDIA.
"As we enter a landmark year for Winter Jam, we're overwhelmed by God's favor on an event that began as one concert in 1995," said Eddie Carswell, Winter Jam creator and NewSong founding member. "The tour has grown in unimaginable ways, but one thing has remained the same-an unwavering commitment to share the Gospel every night. This year's line-up continues a tradition of excellent music and impacting ministry, and we're especially excited to welcome our friends Skillet back as headliners."
"Skillet is pumped to get back out on tour with Winter Jam," remarked lead singer John Cooper from the band's headline tour across Europe, which is selling out in multiple cities including London, Hamburg and Cologne, Germany and more. "After several tours in Europe over the past year, we're looking forward to heading out on a tour that will keep us in the U.S. all winter and spring; and most importantly will help bring the message of hope in Jesus to people all over the nation! It's gonna rock, so get ready!"
Promoted by Premier Productions and presented by Holt International, the tour-known for its 10 artists for $10 admission-will hit 47 cities from January through March. Winter Jam is slated to visit some of the country's top venues, including Chicago's Allstate Arena; the Toyota Center in Houston; Nashville's Bridgestone Arena; the CONSOL Energy Center in Pittsburgh; Ft. Lauderdale, Florida's BB&T Center; and the Time Warner Cable Arena in Charlotte, North Carolina, among numerous others. For a complete list of dates and cities, visit jamtour.com.
Next year, three daylong JAM ZONE free family events are slated in conjunction with Winter Jam stops in Atlanta; Birmingham, Alabama; and Lexington, Kentucky. The inaugural JAM ZONE, held in February at Atlanta's World Congress Center, included more than 85 local business and exhibitor booths and drew an estimated 7,500 people.
For the second year in a row, fans can access tour information and exclusive content via the Winter Jam App. With more than 100,000 downloads to date, the app offers interactive venue maps; free Winter Jam radio; giveaways; Jam Nation membership purchases; and a Winter Jam store, among other features. The Winter Jam App can be downloaded at jamtour.com/app.
Sponsors of NewSong's Winter Jam 2015 Tour Spectacular include Pure Flix's "Do You Believe?" film; the University of Mobile; Teen Missions; Pepsi; TheOverflow.com; Camp Electric; Premier Christian Cruises; Xtreme Conferences; Texas TransEastern; and Wayne E. Bailey Produce.
GRAMMY®-nominated and platinum selling rock band Skillet has sold more than 2.5 million units in the U.S., racked up more than 160 million YouTube views and amassed a diehard following whose members number more than five million on Facebook alone. Their 2013 Dove Award-winning release RISE debuted at No. 4 on the Billboard 200 and No. 1 on the Billboard Rock and Christian charts, which led to four consecutive No. 1 radio hits. RISE also gave Skillet their late night television debut on Conan and follows the band's 2009 platinum blockbuster, Awake, which garnered three Billboard Music Awards and spawned four multi format hit singles, including the platinum single "Monster," whose companion video has generated more than 69 million YouTube views. Skillet was the only active rock band to achieve RIAA Platinum Certification in 2012 and will launch Winter Jam following a sold out headline tour across Europe.
Capitol CMG artist Jeremy Camp has established himself with landmark accolades throughout his praised 12-year career. Camp has sold more than four million albums including four RIAA Gold-certified albums. He also has a RIAA Multi-Platinum long-form video. At radio, Camp is recognized as a staple artist with 36 No. 1 radio hits across all formats spending more than 175 weeks at No. 1 at radio in his career. His awards and nominations comprise of a GRAMMY®-nominated project, three American Music Award nominations, four ASCAP Songwriter of the Year awards, an ASCAP Song of the Year award, and five GMA Dove Awards including two-time Male Vocalist of the Year and New Artist of the Year awards. Adding author to his name, Camp penned his first book and autobiography I Still Believe in 2013 (Tyndale). He will release his new studio album in early 2015.
Since her debut in 2008, Francesca Battistelli has earned a GRAMMY® nomination, six Dove Awards (including 2011 "Artist of the Year") and 23 Dove Award nominations. With both a RIAA Certified Gold Album and Single to her credit, 2 Billboard No. 1 albums, and over a million in album sales and nearly 2 million single downloads to date, she is the best-selling new artist in the genre in the past decade. The launch of her third album, If We're Honest, found her making her national morning TV debut this year on ABC's Good Morning America performing her multi-week #1 song, "Write Your Story," just weeks before the album hit the top of the Christian SoundScan chart.
Creators and hosts of the Winter Jam Tour Spectacular, GRAMMY®-nominated Christian music leaders NewSong continue to oversee the groundbreaking tour, now entering its 20th year. In addition, NewSong's storied career boasts 18 albums, 20 #1 Christian radio singles and induction into the Georgia Music Hall of Fame, among numerous other achievements. The group's unparalleled 30-year ministry has been highlighted by such defining songs as "Arise, My Love" "The Christmas Shoes" and "The Same God." In partnership with Integrity Music, NewSong recently recorded a live worship album, which is slated to release next year.
For further information, visit jamtour.com or turningpointpr.com
- ### -
For more info on NewSong visit the JFH Artists Database.
For more info on Skillet visit the JFH Artists Database.
For more info on Jeremy Camp visit the JFH Artists Database.
For more info on Francesca Battistelli visit the JFH Artists Database.
For more info on Building 429 visit the JFH Artists Database.
For more info on for King & Country visit the JFH Artists Database.
For more info on Family Force 5 visit the JFH Artists Database.
For more info on Blanca visit the JFH Artists Database.
For more info on About A Mile visit the JFH Artists Database.
For more info on VERIDIA visit the JFH Artists Database.