June, 2016
---
*Thursday, June 30, 2016*
Cindy Gibbs Announces New Album "Overtaken"
Up and coming contemporary Christian artist, Cindy Gibbs, announces the new LP titled "Overtaken" will be released on iTunes August 5, 2016. The album will feature twelve brand new tracks that were produced by Tom Malkiewicz (Tye Tribett, Israel Houghton, Coffey Anderson)... <<
Full Report
>>
---
*Wednesday, June 29, 2016*
Legend Shirley Caesar Honored with Hollywood Walk of Fame Star
The Reigning Queen of Gospel, Shirley Caesar was honored in a jubilant celebration in Hollywood on Tuesday June 28th, as her trailblazing music career was recognized with a star on the Hollywood Walk of Fame. Honored in the category of Recording, Shirley Caesar's star was unveiled in front of the Fonda Theatre on Hollywood Boulevard, with Pastor Caesar joined by world-renowned artists Yolanda Adams and Kirk Franklin as guest speakers, and Hollywood Chamber of Commerce President/CEO Leron Gubler as the emcee, who also declared it "Shirley Caesar Day" in Hollywood during the ceremony... <<
Full Report
>>
---
*Tuesday, June 28, 2016*
Kirk Franklin Wins Third BET Award
Fo Yo Soul Recordings /RCA Records are celebrating the latest achievement of acclaimed artist, producer and songwriter, Kirk Franklin. At Sunday night's BET Awards, Franklin received the Dr. Bobby Jones Best Gospel / Inspirational Award. This is Franklin's third BET Award win in the award show's 16 year history... <<
Full Report
>>
---
*Monday, June 27, 2016*
Project 86 Launch PledgeMusic Campaign To Fund 10th Album
We announced
Friday
that Project 86 would be debuting a new PledgeMusic campaign for the band's 10th album today, June 27. The
PledgeMusic campaign
is now live, giving fans a chance to get their new album digitally, on autographed CD, or on limited edition vinyl. There are other neat packages, including getting your name in the liner notes or a disposable camera of photos the band took during the production of the album, as well as some vintage merch... <<
Full Report
>>
---
Unspoken to Release New Album "Follow Through" August 26th
Unspoken will release
Follow Through
, their second full album for Centricity Music, on August 26th. The project features four producers at the helm with Seth Mosley (Newsboys, Citizen Way), Tedd T (for King & Country, Mutemath), Christopher Stevens (TobyMac, Michael W. Smith) and Mitch Dane (Jars of Clay, Bebo Norman). With the release of
Follow Through
, Unspoken has found a place of new freedom to push the boundaries of their trademark sound, mixing in horns and electronic elements in fresh ways without altering... <<
Full Report
>>
---
*Friday, June 24, 2016*

for King & Country Launch Fall Headline Tour
Two-time GRAMMY-Award winners for KING & COUNTRY will embark on their biggest headline tour to date this fall, along with KB and special guest Jordan Feliz. The tour, dubbed "Priceless | The Tour [Fall 2016]," will correspond with the band's first feature length film of the same name... <<
Full Report
>>
---
Leeland Releases First New Album In 5 Years, "Invisible," July 22 From Bethel Music
Multiple GRAMMY, Dove Award nominated Leeland internationally releases its fifth full-length album and first new album in nearly five years,
Invisible
, July 22 from Bethel Music and through Provident Distribution. The album also marks the first album since Leeland, consisting of Leeland Mooring and Casey Moore, joined the Bethel Music Artist Collective in 2015... <<
Full Report
>>
---
Project 86 Announces Two New Releases
Early this morning, Project 86 announced that a new PledgeMusic campaign for the band's 10th album will launch this coming Monday, June 27. The band writes, "As many of you know, 2016 commemorates the 20th year of Project 86! We are still in awe and disbelief that we are here... We have been building up to something special all year... <<
Full Report
>>
---
*Thursday, June 23, 2016*

Stryper Announces 30th Anniversary "To Hell with the Devil" Tour
Iconic rock band Stryper will celebrate the 30th anniversary of their multi-platinum album To Hell with the Devil this fall with a world tour, featuring all four original members and complete with the original yellow and black costumes. Released by Enigma Records on October 24, 1986, the GRAMMY-nominated To Hell with the Devil is the band's third studio album and the first Christian metal album to achieve platinum status... <<
Full Report
>>
---
Lindy Conant & The Riders Hold Towards The Top Of The Album Charts
After making a surprising No. 1 debut last week on the Christian Billboard album chart with the release of
Every Nation
, Lindy Conant & The Circuit Riders is holding towards the top of the album chart this week at No. 2, while jumping three spots to No. 6 on Billboard's independent album chart. Lindy Conant & The Circuit Riders was also featured on Billboard.com last week, touting the success of their chart-topping album... <<
Full Report
>>
---
Matt Maher Honored with BMI Songwriter of the Year Award
Eight-time GRAMMY-nominated artist Matt Maher was awarded with top honors at this week's invitation only event for the annual BMI Christian Music Awards. He tied for the top award given for Christian Songwriter of the Year with Chris Tomlin. This is Maher's third Songwriter of the Year award... <<
Full Report
>>
---
Word Publishing Named BMI Publisher of the Year
Word Music Publishing was honored with the Publisher of the Year Award at the 2016 BMI Christian Music Awards. This marks the second time in the last four years that Word Music Publishing has been named BMI's Publisher of the Year, earning the highest percentage of copyright ownership among the year's most-performed songs. In addition, for KING & COUNTRY received the prestigious Song of the Year Award for their hit song... <<
Full Report
>>
---
*Tuesday, June 21, 2016*

Skillet To Headline U.S. Tour In Support of New Album, "Unleashed"
Grammy-nominated rockers Skillet will embark on a headline tour of the United States this September. The tour will kick off on September 22 in Clive, IA and run through October with more dates to be added and announced in the near future. The tour will feature Thousand Foot Krutch on the first half of the U.S. run and Sick Puppies will finish the second half of the tour. Devour The Day will be playing the entire tour. The headline tour will make stops in cities such as Chicago, IL; Detroit, MI; and Sayreville, NJ to name a few. More tour dates will be announced in the near future. An exclusive presale for The Panheads (The Official Skillet Fan Club) will go live on Wednesday, June 22nd. Tickets and VIP Packages will be available and fans can sign up for the fan club at:
www.skillet.com/become-a-member
... <<
Full Report
>>
---
*Monday, June 20, 2016*

Syrian Refugee's Daughter, No. 1-Selling Recording Artist Audrey Assad Joins "We Welcome Refugees" Movement
As the daughter of a Syrian refugee, critically lauded singer, songwriter and author, Audrey Assad, is passionate about the plight of refugees. Having spoken about art, faith, womanhood, justice and pornography addiction at numerous Catholic and Evangelical events, she now also joins We Welcome Refugees, World Vision, The Justice Conference, World Relief and Q Ideas, in bringing awareness to the refugee crisis... <<
Full Report
>>
---
Hillary Scott Reveals Personal Story Behind "Thy Will," Premieres Music Video Today
As part of this morning's exclusive sit-down interview with ABC's Good Morning America, seven-time GRAMMY award-winning Lady Antebellum member Hillary Scott announced July 29th as the release date of LOVE REMAINS (EMI Nashville, Capitol CMG) by Hillary Scott & The Scott Family... <<
Full Report
>>
---
*Friday, June 17, 2016*

Thousand Foot Krutch Frontman Trevor Mcnevan Celebrates Father's Day Weekend With Newborn Baby, New No. 1 Album!
Thousand Foot Krutch lead singer, songwriter and guitarist Trevor McNevan has a lot to celebrate this week. In addition to already hitting No. 1 on iTunes' Rock Top Albums chart (No. 3 overall Albums) in the US with Top 5 overall albums chart placement in Canada, Russia, Australia, Finland and more with today's release of EXHALE, the long-awaited hard-rocking follow up to 2014's OXYGEN:INHALE, McNevan is the proud dad of a brand new baby girl just in time for Father's Day weekend. He and his wife, Erin, announce the birth of Jade Autumn Lynn McNevan, who was born today in Nashville, TN at 4:30 pm CDT, weighing 7 pounds, 14 ounces and measuring 20.5 inches long... <<
Full Report
>>
---
Sherwood Releases First Album In Seven Years
The long-awaited new record from Sherwood is here!
Some Things Never Leave You
drops today on BC Music. After a seven year hiatus, the voice of MySpace has returned and the reviews speak for themselves. Grab the new record now at
Sherwoodmusic.net
... <<
Full Report
>>
---

Hillsong's "Let Hope Rise" To Finally Hit Theaters Sept. 16
Pure Flix is distributing HILLSONG-LET HOPE RISE, the highly anticipated feature film that chronicles the spectacular and miraculous rise to prominence of the Australia-based band, Hillsong UNITED. Directed by Michael John Warren (Jay Z's FADE TO BLACK), the film explores Hillsong's journey from a tiny church in the Sydney suburbs to an influential international ministry whose songs are sung every Sunday by more than 50 million people across the globe. Their songs have been translated into 60 languages and the band has sold... <<
Full Report
>>
---
GRAMMY® Acclaimed Crowder To Ignite "American Prodigal" On Sept. 23
Sept. 23 will mark
American Prodigal
, the anticipated sophomore solo project from Crowder.
American Prodigal
will build on Crowder's double-GRAMMY® nominated
Neon Steeple
(2014), which boldly debuted at No. 8 on the Billboard 200, sparking both a No. 1 hit and top 5 single at radio, a Grand Ole Opry debut, a Dove Award along with multiple nods, numerous K-LOVE Fan Award Nominations and tours throughout the U.S. and abroad... <<
Full Report
>>
---
GRAMMY® Winning Producer Seth Mosley Announces The Debut Of Full Circle Academy
Full Circle Music's award-winning producer Seth Mosley officially announces the commencement of Full Circle Academy, a music production school located in Franklin, TN with Mosley at the helm. Students enrolled in Full Circle Academy will have access to introductory online classes including songwriting, production, editing, instrumentation and engineering... <<
Full Report
>>
---
The Rubyz' "I'll Follow You" Is In Stores Now, Trio Preps for Festival Tour
Today, June 17, pop trio THE RUBYZ releases its fourth project,
I'll Follow You
. The Rubyz brand is known for developing the best young talent in the Christian pop market, and
I'll Follow You
showcases the talents of a new lineup featuring of Addy Schneider (14), Jessica Coffey (14) and Tanner Davis (17)... <<
Full Report
>>
---
*Thursday, June 16, 2016*

Lauren Daigle To Embark On Her First Headline Tour
Centricity Music artist Lauren Daigle, will embark on her first headline tour titled "A Night with Lauren Daigle," with special guest Chris McClarney, in support of her recently released HOW CAN IT BE DELUXE EDITION. The tour, sponsored by CURE International, is scheduled from October 14-30, beginning in Memphis, Tennessee. Daigle, who is currently opening on the Hillsong UNITED Empires tour, has been on a whirlwind year since her debut award-winning album, HOW CAN IT BE, was released... <<
Full Report
>>
---

V.Rose To Perform on JUCETV Live Tomorrow, June 17
Coming off the heels of a sold out tour, pop sensation V.Rose will be the special guest on JuceTV LIVE on June 17 starting at 7pm PT and will re-air on TBN Saturday, June 18 at 10am PT. V.Rose will give an intimate acoustic performance of her dance his "I Love You So Much [ILYSM}" and perform two other songs off her top selling album Young Dangerous Heart, an album that hit top 15 on... <<
Full Report
>>
---

Amy Grant, Michael W. Smith Unite for Popular 2016 Christmas Tour
Once again rekindling their synonymous holiday music magic, multi-platinum GRAMMY® winners Amy Grant and Michael W. Smith will co-bill their popular symphony-filled Christmas tour this year, joined by Republic recording artist Jordan Smith, Season 9 winner of NBC's "The Voice." Incorporating a full symphony orchestra at each performance, this seasonal crowd-pleaser is expanding this year with additional dates added on the West Coast. Set to kick off Nov. 11 in Los Angeles, the tour will travel to nearly 20 major markets across the U.S. including Los Angeles, Phoenix, Seattle, Portland, Little Rock, Indianapolis... <<
Full Report
>>
---

Thousand Foot Krutch "Exhale" Headline Tour Launches July 15; TFK's EXHALE Releases Tomorrow
Adrenaline-doused rockers Thousand Foot Krutch are back to the aggressive side of the dial with EXHALE set to release independently worldwide tomorrow (June 17) on TFK Music and with marketing, sales and distribution through Fuel Music. Available to pre-order now with five instant downloads from iTunes along with special order options from Amazon.com, Best Buy and other digital and physical retailers internationally, the acclaimed new album is meant to shake stereo speakers and earbuds, all the while being crafted to be fully experienced live... <<
Full Report
>>
---

Matt Maher Debuts Live Video Recording from YouTube Pop-Up Space
Eight-time GRAMMY-nominated artist Matt Maher recently participated in the YouTube Pop-Up Space event in Nashville at Black River Entertainment. As part of the event, YouTube created the video for Maher's latest radio single, "Abide With Me." Click below to view this beautiful rendition of his song. YouTube has been creating "pop-up" spaces around the world including New York City and Los Angeles... <<
Full Report
>>
---
*Wednesday, June 15, 2016*

NF Announces "Therapy Session" Tour
NF (Nate Feuerstein) will kick off the "Therapy Session" tour on September 20 at Neumo's in Seattle, WA. The extensive North American headline run will include shows at the legendary Troubadour in West Hollywood, CA (September 27), St. Andrew's Hall in Detroit, MI (October 15), Theatre of Living Arts in Philadelphia, PA (October 20) and New York City's Irving Plaza (October 24). A ticket presale will begin on Thursday, June 16, at 10 a.m... <<
Full Report
>>
---
Norma Jean To Release "Polar Similar" September 9
Norma Jean are back on Solid State Records and will be releasing their seventh album
Polar Similar
on September 9th, 2016. The crushing first single "1,000,000 Watts" is premiering now via
NPR
.
Polar Similar
proves that Norma Jean has never been afraid to take risks sonically and lyrically. NPR took note of this on the new track "1,000,000 Watts," saying that the song "grooves and lashes out wildly like a caged animal, but more than ever Norma Jean colors the chaos with brooding hues... <<
Full Report
>>
---
Forevermore Announce "Integral" Album Release Tour
Solid State recording artists Forevermore have announced a summer tour in support of their new album. The Integral album release tour will run from early July to early August and will hit both coasts! Joining the Indianapolis metal-core unit on tour will be Kingdom Of Giants (InVogue Records) and Darkness Divided (Victory Records)... <<
Full Report
>>
---

Natalie Grant, Danny Gokey Launch BE ONE Tour This Fall
Four-time GRAMMY® nominee and five-time Dove Award-winning Female Vocalist of the Year Natalie Grant is joining forces with two-time Dove nominee and K-LOVE's newly-named 2016 Male Artist of the Year Danny Gokey for the "Be One" Tour, slated for 13 cities this fall. Sponsored by ChildFund International, the "Be One" Tour also features special guest artist Tauren Wells and will kick off Oct. 13, in Stamford, Connecticut. Ticket information for the "Be One" Tour is available at
BeOneTour.net
... <<
Full Report
>>
---

Multi-GRAMMY Winner Israel Houghton's "Chasing Me Down" Rises in Top 20
This week, "Chasing Me Down," the latest single from multi-GRAMMY® Award, Stellar and Dove Award winning recording artist, Israel Houghton, broke into the Top 20 on Billboard's Gospel Airplay chart. The song, which features fellow award-winning inspirational artist, Tye Tribbett, is currently at #17 on the airplay chart and steadily climbing. "Chasing Me Down," an up-tempo praise and worship anthem, is the third single from Israel Houghton... <<
Full Report
>>
---
*Tuesday, June 14, 2016*
Bethel Music Announces 2017 Heaven Come Conference In Los Angeles
Bethel Music, the worship ministry of Redding, CA-based Bethel Church, gathered thousands from nearly every state in the US, as well as from at least 30 countries around the world for its inaugural Heaven Come Conference held last week in Los Angeles. Set to be an annual event, Bethel Music announces that the second annual Heaven Come Conference will return to Microsoft Theater September 21-23, 2017. Registrations for this event featuring the church's senior leadership team, Bethel Music Artist Collective (currently 17 artists) and special guests, including speaker Carl Lentz and others to be announced later, are available now at
https://bethelmusic.com/heaven-come-2017/
... <<
Full Report
>>
---
Vocal Trio First Call Announces June 17 Release Date for 'Second Birth'
Marty McCall, Melodie Tunney and Bonnie Keen, the original members of the Grammy nominated, multi-Dove Award winning contemporary Christian music vocal band First Call, are thrilled to announce the release date for their highly anticipated new project,
Second Birth
. The new 6 song EP is slated to impact retail on Friday, June 17, 2016... <<
Full Report
>>
---
Lindy Conant & The Riders Make Their No. 1 Debut On Christian Album Chart
To the surprise of many music industry insiders, this week's Christian Billboard No. 1 album is
Every Nation
by Lindy Conant & The Circuit Riders, a previously unknown independent worship artist.
Every Nation
released June 4th in partnership with RMA (Rogue Music Alliance), the brainchild of worship industry mainstays Gabriel Wilson and David Staley. Fueled only by Wilson's production, Staley's social media marketing hackery, and grassroots word of mouth momentum from the Circuit Riders,
Every Nation
debuted at No. 1... <<
Full Report
>>
---
*Monday, June 13, 2016*

Kirk Franklin Garners His Latest No. 1 Hit Single
Ten-time GRAMMY® Award-winning artist, songwriter, producer and music icon Kirk Franklin, garners a second #1 hit with his latest single "123 Victory," which hits #1 on the Mediabase Gospel radio chart. The second hit single off of his chart-topping eleventh studio album, LOSING MY RELIGION (Fo Yo Soul Recordings / RCA Records), "123 Victory" follows on the heels of Franklin's record-breaking #1 single "Wanna Be Happy?... <<
Full Report
>>
---

H2O Artist Agency Opens Doors In Nashville
After more than two decades in Atlanta, veteran Christian music booking agent Scott Huie has relocated his H2O Artist Agency to Brentwood, Tennessee. The move sees Huie returning as exclusive booking agent of Platinum®-selling, GRAMMY®-nominated Newsboys, as he previously represented the band for more than 15 years. H2O Artist Agency's roster also includes GRAMMY®-nominated recording artist Peter Furler; GRAMMY®-nominated singer/songwriter Ryan Stevenso... <<
Full Report
>>
---
*Friday, June 10, 2016*

NEEDTOBREATHE Premieres Music Video For "HAPPINESS"
Atlantic recording group NEEDTOBREATHE has unveiled the official music video for "HAPPINESS," the lead single from the GRAMMY®-nominated rock band's forthcoming album
H A R D L O V E
. The highly anticipated release is set to arrive on July 15th. "HAPPINESS was a lot of fun to make...who doesn't want to run around the streets of LA in the dead of night? It's also the first video we've ever gotten to show off our athletic skills. You're welcome... <<
Full Report
>>
---
Former By The Tree Frontman, Chuck Dennie, Finds Healing with Aledo's "Gypsy Heart"
Singer-songwriter Chuck Dennie's former life looked perfect from the outside - he had it all; he was a successful pastor and had been the frontman for a superstar-level Christian band (
By The Tree
). But then the façade crumbled -- and truth and pain were left in the rubble. His new band Aledo's album,
Gypsy Heart
, out August 26, tells his story of healing through vulnerability with 5 tracks that examine the healing process from breakdown to transformation... <<
Full Report
>>
---
New Jill Parr Album Debuts at #1 on iTunes After 10 Year Hiatus
After a 10-year hiatus, Christian recording artist Jill Parr has reemerged with her new album, "I Still Want More." The album was quietly released on June 3rd and immediately debuted at #1 on iTunes (Christian & Gospel Top Albums Chart). "I Still Want More" is Parr's fourth full-length album, her first to be released via... <<
Full Report
>>
---
THE RUBYZ to Release I'LL FOLLOW YOU, June 17 on iShine Records/Bema Media
For the past nine years, The Rubyz have introduced the world to some of the best young talent in the Christian pop arena. Formed to offer strong role models and a positive musical alternative for tweens, The Rubyz have established a trusted brand with a passion to reach the next generation. Now, on June 17, The Rubyz will be releasing their fourth project,
I'll Follow You
, (iShine/Bema Media) just in time for summer... <<
Full Report
>>
---
Skillet's "Feel Invincible" Named Theme Song for TBS' E-League
Hailing from their awaited release of
Unleashed
(Aug. 5), "Feel Invincible" from Grammy-nominated rockers Skillet has been chosen as the theme song for TBS' E-League, a live competitive video gaming tournament. Seen in over 80 countries around the world, the show will first use the song tonight, June 10 at 10 p.m. EST on TBS, and throughout the duration of the eight week tournament. The tournament has amassed over 800 million impressions on Twitter and 3.5 million views on Facebook... <<
Full Report
>>
---
Marc Martel's "Somebody To Love" Video Generates Close to 12-Million Views
CCM/Mainstream artist, Marc Martel, is once again generating online buzz with his Queen Extravaganza audition video of "Somebody To Love." The powerful video was re-posted over the weekend by a fan on Facebook's YouFind Music "Share Your Sound," and already the video has close to 12-million views and is still climbing. The original video was posted on YouTube and received over 11-million views and led to Martel being booked on... <<
Full Report
>>
---
Forevermore Drop Video for "Nascent"
Indianapolis metal-core quintet Forevermore have dropped a new video this morning. "Nascent" (Directed and edited by Orie McGinness and Bryan Kirks at Enlighten Creative Studios) the first taste from the group's forthcoming album
Integral
, which drops on July 22nd via Solid State Records... <<
Full Report
>>
---
Shelly E. Johnson Releases First Live Worship Album Today
Lifeway Worship's 2012 Songwriter of the Year and nationally known worship leader Shelly E. Johnson announces today's release of "Christ Be Everything LIVE," a six-song collection of the singer/songwriter's favorite worship music recorded in front of an audience of family and friends... <<
Full Report
>>
---
GMA Announces Talent Confirmed to Perform in the Annual BMI Songwriters Showcase
The Gospel Music Association's IMMERSE has grown to become the premiere training experience for artists, songwriters, filmmakers and business leaders. As the Christian music community gathers to discover and inspire new talent, the Tuesday night BMI Songwriters Showcase has become a cherished event for the industry at large... <<
Full Report
>>
---
7eventh Time Down Earns First No. 1 Single at NCA With "God Is On The Move"
BEC Recordings' 7eventh Time Down celebrates their first No. 1 radio single on the National Audience Chart with their single "God Is On The Move." The single moved to the top slot with more than a half million audience impression increase and over 10.9 million audience total impressions on the chart... <<
Full Report
>>
---
The Gray Havens Take "Ghost of a King" On Tour
On the heels of April's critically acclaimed
Ghost of a King
, Artist Garden Entertainment folk/pop duo The Gray Havens will headline a unique tour this fall, performing their full-length sophomore recording in its entirety on multiple college campuses around the country... <<
Full Report
>>
---
*Wednesday, June 8, 2016*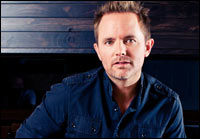 Chris Tomlin's Worship Night In America Events Return This Summer
Chris Tomlin's Worship Night In America events are returning this summer, once again uniting people across the country for a time to worship and pray for the nation, following last year's sold-out inaugural events... <<
Full Report
>>
---

Award-winning Hip Hop Artist KB Releases "Drowning" Music Video," June 8
Award-winning hip hop artist KB releases a new music video for "Drowning," the fourth single from his Top 20 Billboard charting album Tomorrow We Live. "Drowning" represents the overwhelming and helpless feeling that people suffer from when struggling with things such as mental illness, drug addiction and suicidal tendencies. The song is meant to encourage those feeling underwater, KB explains it "is about turning to God to lift you up out of those dark situations."... <<
Full Report
>>
---
*Thursday, June 2, 2016*

All Sons & Daughters Release First Single, "I Surrender," Friday, June 3
Integrity Music announces the June 3 release of "I Surrender," a new single from GRAMMY and Dove Award nominated worshipers All Sons & Daughters. The single is the first from the duo's forthcoming studio recording, Poets & Saints, which will release September 2 along with a companion book and small group study guide... <<
Full Report
>>
---

Kirk Franklin's Acclaimed 20 Years in One Night Tour Returns
Award-winning gospel artist, songwriter, producer and trailblazer Kirk Franklin kicks off the second leg of his critically acclaimed 20 Years in One Night Tour tonight in Clearwater, Florida at The Ruth Eckerd Hall. Extended due to overwhelming demand, the 20 Years in One Night Tour returns for 14 additional dates. The 20 Years in One Night Tour is a retrospective of Kirk Franklin's expansive 20-plus year body of work... <<
Full Report
>>
---
Gospel Hip-Hop Artist Dee Black Launches Independent Recording Imprint HISStory Music Group
Gospel hip-hop artist Dee Black has been blessed with a new opportunity. Formally with Sony RED, he's been guided to create a new road in the recording industry. He won't travel its path alone. Black has officially launched HISstory Music Group, an independent recording imprint aiming to set the standard for gospel-orientated lyrical excellence... <<
Full Report
>>
---
Mouthpi3ce releases "Uno", first single from The Spectacle via HISStory Music Group
Gifted lyricist Mouthpi3ce is ready to make HISstory! His first single for HISstory Music Group, titled "Uno", is available for free download via IAmHISstory.com today. Full length album The Spectacle to follow in late 2016. "Uno" features production by Dope Boi Beatz... <<
Full Report
>>
---
*Wednesday, June 1, 2016*
John Tibbs Featured Artist At Indy 500 With IndyCar Ministry
Singer and songwriter and Fair Trade Services artist John Tibbs performed this past weekend at the Indianapolis 500. He was the special guest of IndyCar Ministry, an organization dedicated to providing spiritual support and counseling to the IndyCar Series drivers, teams, and staff, both on and off the track. Prior to the big race held on Sunday, May 29, Tibbs sang at their four private chapels held for drivers, crew and their families, as well as at the public chapel held onstage in the infield fan zone. The public chapel was sponsored by IndyCar Ministry, K-LOVE and Cooper Tires... <<
Full Report
>>
---

Brandon Heath Debuts New Music Video - Join Him to Send 21 Kids to Young Life Camp
Five-time GRAMMY® nominated artist Brandon Heath debuted a new music video for his song "Only Just Met You," This video is from the album, No Turning Back, which shares glimpses of life lessons that Heath recounts from his own journey such as forgiveness, fear, love and the power of relationships, including his mother and other important mentors... <<
Full Report
>>
---
Tamela Mann's Tillymann Music Group Inks Deal With RED Distribution
Tillymann Music Group announced today the signing of an agreement with RED Distribution for physical and digital distribution in the U.S. and Canada. The distributor will be carrying the complete catalog of Platinum-Selling Artist and Grammy Award® Nominee Tamela Mann including her upcoming album release, One Way, and NAACP Image® Award-Winning Comedian David Mann... <<
Full Report
>>
---
Trio Virtue Added To 2016 Sunday Gospel Celebration
The ESSENCE Festival - the largest event celebrating African-American culture and music that draws an estimated crowd of 500,000 for four-day events (June 30-July 3) in New Orleans has added GRAMMY nominated female group Virtue (Ebony Holland, Karima Kibble, and Heather Martin) to their star-studded line-up. The sister trio joins previously announced contemporary gospel and R&B singers, Yolanda Adams, Travis Greene... <<
Full Report
>>
---
Righteous Vendetta Sign To Another Century Records
Wyoming based Hard Rock quintet RIGHTEOUS VENDETTA are proud to announce that they have signed with Another Century Records. The band is currently in the studio with producer Mitchell Marlow (In This Moment, Stitched Up Heart, He Is Legend) working on their debut full length for Another Century. In addition to this, the band will also be joining their new label-mates LIKE A STORM for a handful of tour dates this summer... <<
Full Report
>>
---
Cana's Voice Debut Album Stays No. 1 on iTunes Christian/Gospel Chart for Three Days
Cana's Voice debut project,
This Changes Everything
, had strong support around its release when the album quickly went to No. 1 on iTunes Christian/Gospel Chart and remained at the top of the chart for three days. The record is currently in the Top 15 and is also receiving supportive reviews from the press... <<
Full Report
>>
---

[2023]
Jan. | Feb. | March | April | May | June | July | Aug. | Sept. | Oct. | Nov. | Dec.
[2022]
Jan. | Feb. | March | April | May | June | July | Aug. | Sept. | Oct. | Nov. | Dec.
[2001 - 2022]
Visit our complete MUSIC NEWS ARCHIVE