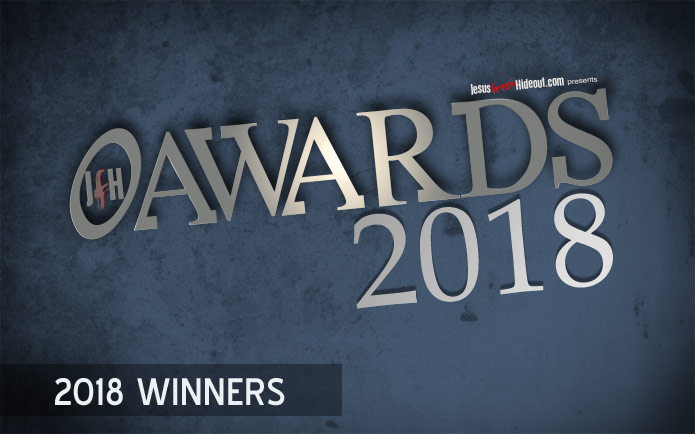 Welcome to the results of the
14th JesusFreakHideout.com Awards
! The artists who were nominated were artists who released new music in 2017.
Congratulations to all of the winners and the runner-ups! And a special 'thank you' to all who voted!
Also be sure to check out the
JFH Staff Picks for 2017
to see what the JFH staff chose for their favorite songs and albums of 2017.
Click here
...
Album of the Year


1st - Rusty Shipp, Mortal Ghost

2 - Third Day, Revival
3 - NF, Perception
4 - John Mark McMillan, Mercury & Lightning
5 - Kings Kaleidoscope, The Beauty Between
6 - Colony House, Only the Lonely
7 - Propaganda, Crooked
8 - MercyMe, Lifer
9 - Tauren Wells, Hills and Valleys
10 - Project 86, Sheep Among Wolves

Rock/Alternative Album of the Year


1st - Rusty Shipp, Mortal Ghost

2 - Kevin Max, Serve Somebody EP
3 - John Mark McMillan, Mercury & Lightning
4 - Kings Kaleidoscope, The Beauty Between
5 - Colony House, Only the Lonely
6 - Red, Gone
7 - Project 86, Sheep Among Wolves
8 - Hearts Like Lions, If I Never Speak Again
9 - Blank Books, EP1
10 - Eisley, I'm Only Dreaming

Acoustic/Indie Pop Album of the Year


1st - Hillsong United, Wonder

2 - The Eagle & Child, Let's Run
3 - The Gray Havens, Ghost of a King (live)
4 - Ellie Holcomb, Red Sea Road
5 - Drew Holcomb & the Neighbors, Souvenir
6 - Young Oceans, Suddenly (or the Nuclear Sunburst of the Truth Revealed)
7 - The Porter's Gate, Work Songs: The Porter's Gate Worship Project, Vol. 1
8 - The Brilliance, All Is Not Lost
9 - The Oh Hellos, Notos EP
10 - Alisa Turner, Alisa Turner EP

Heavy Album of the Year


1st - Demon Hunter, Outlive

2 - August Burns Red, Phantom Anthem
3 - Death Therapy, The Storm Before The Calm
4 - Phinehas, Dark Flag
5 - To Speak of Wolves, Dead in the Shadow
6 - The Ongoing Concept, Places
7 - War of Ages, Alpha
8 - For All Eternity, The Will To Rebuild
9 - Gideon, Cold
10 - Nothing Left, Destroy and Rebuild EP

Rap/Hip Hop Album of the Year


1st - Propaganda, Crooked

2 - NF, Perception
3 - KJ-52, Jonah
4 - Andy Mineo & Wordsplayed, Magic & Bird
5 - Beautiful Eulogy, Worthy
6 - KB, Today We Rebel
7 - Social Club Misfits, The Misadventures of Fern & Marty
8 - Derek Minor, High Above EP
9 - nobigdyl, Canopy
10 - Sho Baraka, The Narrative, Vol. 2: Pianos & Politics

Pop / Pop Rock Album of the Year


1st - Third Day, Revival

2 - Aaron Sprinkle, Real Life
3 - MercyMe, Lifer
4 - Hollyn, One-Way Conversations
5 - Tauren Wells, Hills and Valleys
6 - The Sing Team, Sing On!
7 - Jeremy Camp, The Answer
8 - Nichole Nordeman, Every Mile Mattered
9 - Colton Dixon, Identity
10 - Kari Jobe, The Garden

Contemporary Album of the Year


1st - Matthew West, All In

2 - Elevation Worship, There Is A Cloud
3 - Stu Garrard, Beatitudes
4 - Matt Maher, Echoes
5 - Jesus Culture, Love Has A Name
6 - Matt Redman, Glory Song
7 - Sara Groves, Abide With Me
8 - Kim Walker-Smith, On My Side
9 - Bethany Barnard (Dillon), A Better Word
10 - Laura Story, Open Hands

State of Independents Album of the Year



1st - Rusty Shipp, Mortal Ghost

2 - The Gray Havens, Ghost of a King (live)
3 - Blank Books, EP1
4 - nobigdyl, Canopy
5 - The Oh Hellos, Notos EP
6 - Sandra McCracken, Steadfast Live
7 - Josh Lovelace, Young Folk EP
8 - Church of Agony, Protest! Worship! Lament!
9 - Taelor Gray, In the Way of Me
10 - Evergreen, Evergreen EP