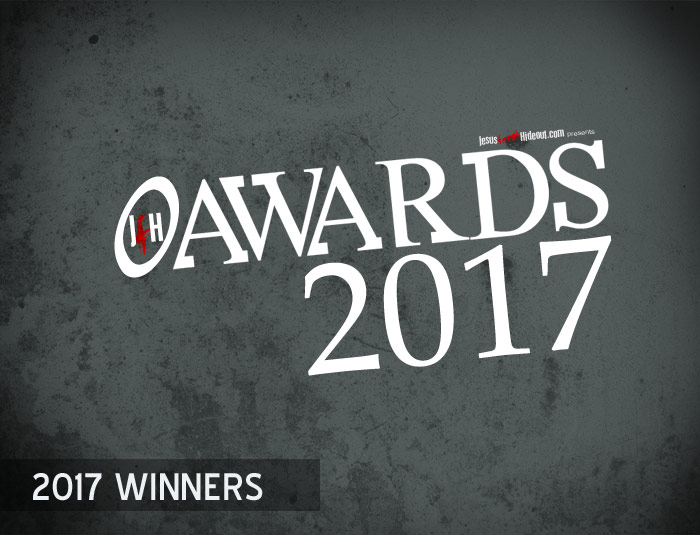 Welcome to the results of the 13th JesusFreakHideout.com Awards! The artists who were nominated were artists who released new music in 2016.

Congratulations to all of the winners and the runner-ups! And a special 'thank you' to all who voted!

Also be sure to check out the JFH Staff Picks for 2016 to see what the JFH staff chose for their favorite songs and albums of 2016. Click here...
Album of the Year


1st - Switchfoot, Where the Light Shines Through

2 - NEEDTOBREATHE, Hard Love
3 - Relient K, Air For Free
4 - Crowder, American Prodigal
5 - Lacey Sturm, Life Screams
6 - Lecrae, Church Clothes 3
7 - Silent Planet, Everything Was Sound
8 - House of Heroes, Colors
9 - Sho Baraka, The Narrative
10 - The Gray Havens, Ghost of a King

Rock/Indie Album of the Year


1st - Switchfoot, Where the Light Shines Through

2 - Lacey Sturm, Life Screams
3 - Thousand Foot Krutch, Exhale
4 - House of Heroes, Colors
5 - Kings Kaleidoscope, Beyond Control
6 - Theocracy, Ghost Ship
7 - Showbread, Showbread Is Showdead
8 - Starflyer 59, Slow
9 - Zach Bolen, 1001
10 - Sherwood, Some Things Never Leave You

Acoustic/Indie Pop Album of the Year


1st - Jason Gray, Where the Light Gets In

2 - Rend Collective, Campfire II: Simplicity
3 - Anchor & Braille, Songs For The Late Night Drive Home
4 - All Sons & Daughters, Poets & Saints
5 - The Gray Havens, Ghost of a King
6 - Gungor, One Wild Life: Spirit
7 - Audrey Assad, Inheritance
8 - Future of Forestry, Awakened to the Sound
9 - Dustin Kensrue, Thoughts That Float On A Different Blood
10 - Fever Fever, Native Color II EP

Heavy Album of the Year


1st - Wolves at the Gate, Types & Shadows

2 - Norma Jean, Polar Similar
3 - Silent Planet, Everything Was Sound
4 - The Devil Wears Prada, Transit Blues
5 - Fit For A King, Deathgrip
6 - Memphis May Fire, This Light I Hold
7 - Hope For The Dying, Legacy
8 - Rival Choir, I Believe, Help My Unbelief
9 - Forevermore, Integral
10 - Poured Out, To the Point of Death

Rap/Hip Hop Album of the Year


1st - NF, Therapy Session

2 - Lecrae, Church Clothes 3
3 - Sho Baraka, The Narrative
4 - Trip Lee, The Waiting Room
5 - Derek Minor, Reflection
6 - Heath McNease, Who Knows? Who Cares?
7 - Krum & Rob Viktum, Bare Knuckle Gospel
8 - The Ambassador, When Sacred Meets Secular
9 - FREE DAPS, Wild Card EP
10 - Scribbling Idiots, Good Morning Mourning

Pop / Pop Rock Album of the Year


1st - Relient K, Air For Free

2 - NEEDTOBREATHE, Hard Love
3 - Britt Nicole, Britt Nicole
4 - Crowder, American Prodigal
5 - Paper Route, Real Emotion
6 - Steve Taylor & the Danielson Foil, Wow to the Deadness EP
7 - Chris Sligh, Mighty Roar / Healing Flood
8 - Rivers & Robots, The Eternal Son
9 - Andy Hunter, Presence
10 - Tyson Motsenbocker, Letters To Lost Loves

Contemporary Album of the Year


1st - Casting Crowns, The Very Next Thing

2 - Hillsong Worship, Let There Be Light
3 - Steven Curtis Chapman, Worship & Believe
4 - Jesus Culture, Let It Echo
5 - Elevation Worship, Here As In Heaven
6 - Ginny Owens, Love Be The Loudest
7 - Michael W. Smith, Hymns II: Shine On Us
8 - Passion, Salvation's Tide is Rising
9 - Chris Quilala, Split the Sky
10 - Paul Baloche, Your Mercy

State of Independents Album of the Year



1st - The Gray Havens, Ghost of a King

2 - Heath McNease, Who Knows? Who Cares?
3 - Zach Bolen, 1001
4 - Rivers & Robots, The Eternal Son
5 - Psalm, Covenant
6 - Krum & Rob Viktum, Bare Knuckle Gospel
7 - Fever Fever, Native Color II EP
8 - Hangnail, Live
9 - John Ball, By Declaration & the Death
10 - Lauren Mann, Dearestly